Golden horde sites at the Aral Sea bottom: human adaptation to ecological changes in the region
a Research Center of Archaeology and Ethnography, Kyzylorda University named after
Korkyt Ata. Korkyt Ata University, 29a Aiteke Bi St., Kyzylorda, Republic of Kazakhstan
b Institute of Archeology named after A. Kh. A.Kh. Margulan Institute of Archeology, 44
Dostyk Ave., Almaty, Republic of Kazakhstan
c National Museum of the Republic of Kazakhstan, Republic of Kazakhstan, Astana, 54,
Tauelsizdik Ave.
*Corresponding author e-mail: azik8484@mail.ru
Alibay B.: baukaalibai@gmail.com; Zhusipnazar M.: zhusypnazar@mail.ru;
https://doi.org/10.29258/CAJWR/2023-R1.v9-1/130-148.ru
Research article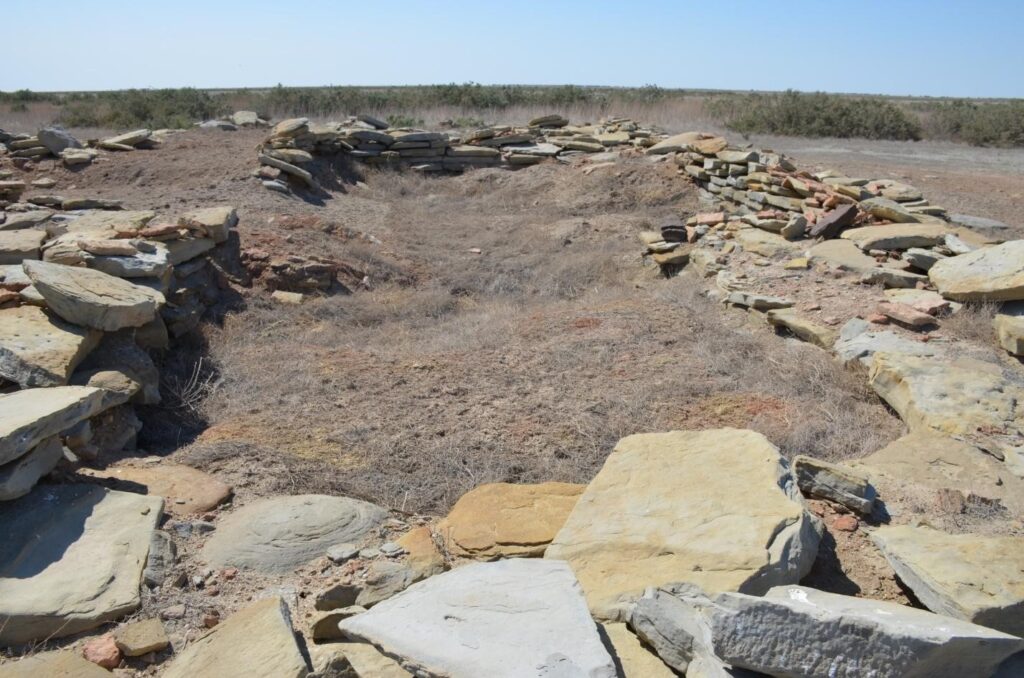 Abstract
The research described in the paper aimed to investigate the Golden Horde sites in the Aral Sea Basin and human adaptation to the region's changing ecology. At present, several known settlements at the drained Aral Sea bottom – namely, Kerderi-1, Kerderi-2, and Aral-Asar – testify to the lake's shallowness during XII-XV centuries. In August 2021, a group of archaeologists from Korkyt-Ata Kyzylorda University conducted a research mission to the location of the former settlement of Aral-Asar as part of the ESERA Project. The results of the study show that Aral-Asar existed for approx. 200 years as a full-fledged economic entity hosting cereal, ceramics and brick productions. In general, the data obtained indicate that environmental changes had led to the desolation of certain cities and development of new lands by humans in the Syr Darya River Delta, including these found at the drained bottom of the Aral Sea.
Available in Russian
Download the article (rus)
For citation: Tazhekeyev, A., Alibay, B., Zhusipnazar, M. (2023) Zolotoordynskie pamjatniki na dne Aral'skogo morja: problemy adaptacii cheloveka k izmeneniju jekologii regional [Golden horde sites at the Aral Sea bottom: human adaptation to ecological changes in the region[. Central Asian Journal of Water Research, 9(1), 130-148. https://doi.org/10.29258/CAJWR/2023-R1.v9-1/130-148.ru [In Russian]
References
Bajpakov, K.M., Vojakin, D.A. (2007b). The settlement of Aral-Asar [Poselenie Aral-asar]. Code of Historical and Cultural Monuments of the Republic of Kazakhstan. Kyzylorda Region [Svod pamjatnikov istorii i kul'tury Respubliki Kazahstan. Kyzylordinskaya Oblast]. Almaty, pp. 61-63 [in Russian]
Bajpakov, K.M., Vojakin, D.A., Bermaganbetov, A.Zh. (2007v). Kerderi Necropolis [Nekropol' Kerderi]. Code of Historical and Cultural Monuments of the Republic of Kazakhstan. Kyzylorda Region. Almaty, pp. 63-65 [in Russian]
Bajpakov, K.M., Ajdosov, A.H., Vojakin, D.A., Bermagambetov, A., Shishkov, A., Antonov, M. (2007a). Research of the Golden Horde sites at the bottom of the Aral Sea, settlement of Aral-Asar, Kerderi-2 Mausoleum [Issledovanija zolotoordynskih pamjatnikov na dne Aral'skogo morja, poselenieAralasar, mavzolej Kerderi 2]. 2006 Cultural Heritage [Kul'turnoe Nasledie v 2006 godu]. Almaty, pp. 119- 122 [in Russian]
Bartold, V.V. (1965a). Information about the Aral Sea and Amu Darya lower reaches from ancient times to the 17th century. [Svedeniya ob Aral'skom more i Nizov'yakh Amu-Dar'i v drevneyshikh vremen do XVII veka]. Moscow: Writings, vol. III. Historical Geography Works [in Russian]
Bartold, V.V. (1965b). Aral Sea [Aral'skoye more]. Moscow: Writings, vol. III. Historical Geography Works [in Russian]
Bajpakov, K.M., Voyakin D.A., Aydosov A., Mamiyev T. (2004). Cities at the Aral Sea bottom [Goroda na dne Arala]. Industry of Kazakhstan [Promyshlennost' Kazahstana], 6(27) [in Russian]
Berg, L.S. (1908). The Aral Sea. Physical and geographical monograph experience [Aral'skoye more. Opyt fiziko-geograficheskoy monografii]. St-Petersburg, Russia; 580 p. [in Russian]
KGU "For the protection of historical and cultural monuments of Kyzylorda region. [KGU «Po ohrane pamjatnikov istorii i kul'tury Kyzylordinskoj oblasti»]. (n.d.). Retrieved June 16, 2021, from https://kyzylorda-pamyatniki.kz/ru/main/ [in Russian]
Haruda, A., Ventresca-Miller, A.R., Paijmans, J.L.A., Barlow, A., Tazhekeyev, A., Bilalov, S., Hesse, Y., Preick, M., King, T., Thomas, R., Hаrke, H., Arzhantseva, I. (2020). The earliest domestic cat on the Silk Road. Scientific Reports 10(1): 11241, pp. 1-2 (doi:10.1038/s41598-020-67798-6)
Janshin, A.A. (1953). Geology of the Northern Aral Sea: Stratigraphy and history of geological development. Materials for knowing the geological structure of the USSR [Geologija Severnogo Priaral'ja: Stratigrafija i istorija geologicheskogo razvitija. Materialy k poznaniju geologicheskogo stroenija USSR]. Moscow, 736 p. [in Russian]
Kes, A.S. (1979). The Aral Sea in the Holocene [Aral'skoe more v golocene]. Archeology and Ethnography of Central Asia [Arheologija i jetnografija Srednej Azii]. Moscow, pp. 19-23 [in Russian]
Krivonogov, S.K. (2009). The scale of the Aral Sea water level decrease in the Middle Ages [Masshtaby ponizhenija urovnja Aral'skogo morja v Srednevekov'e]. Proceedings of the Akademy of Sciences 428(1), pp. 109-144 [in Russian]
Maev, E.G., Maeva, S.A. (1983a). Bottom sedimentation section of the central part of the Aral Sea [Razrez donnyh otlozhenij central'noj chasti Aral'skogo morja]. Paleogeography of the Caspian and Aral Seas in the Cenozoic. Moscow, vol. 2, pp. 133-143 [in Russian]
Maev, E.G., Maeva, S.A., Nikolaev, S.D. (1983b). New data on the Holocene history of the Aral Sea [Novye dannye pogolocenovoj istorii Aral'skogo morja]. Paleogeography of the Caspian and Aral Seas in the Cenozoic. Moscow, vol. 2, pp. 133-143 [in Russian]
Mamiev, T. (2002). Kerderi Mausoleum [Kerderi mavzoleyi]. Almaty, KazMU [in Kazakh]
Mamiev, T. (2007). Later medieval cities of the Aral Sea region (13-18 centuries) [Keyingy ortagasyrdagy Aral onyrynyn qalalary (XIII-XVIII)]. Kyzylorda, p. 88 [in Kazakh]
Nikolaev, S.D. (1995). Isotopic paleogeography of inland seas [Izotopnaja paleogeografija vnutrikontinental'nyh morej]. Moscow: VNIRO, 125 p. [in Russian]
Oralbay, Y., Tazhekeyev, A., Meirmanova, G., Darmenov, R., Bilalov, S., Amirgalina, G. (2016). Monuments of the Early Iron Age of the Aral-Caspian Region as a Historical Source. Anthropologist 26 (1, 2), pp. 137-144 (doi:10.1080/09720073.2016.11892141)
Park, J.S., Voyakin, D. (2021). Technological transition and complexity reflected in bronze and brass objects from the medieval site in the Aral Sea region. Archaeological and Anthropological Sciences 13(2) (doi:10.1007/s12520-021-01271-x)
Shnitnikov, A.V. (1983). The Aral Sea in the Holocene and natural tendencies of its evolution [Aral v golocene i prirodny etendencii ego jevoljucii]. Paleogeography of the Caspian and Aral Seas in the Cenozoic. Moscow: MSU, vol. 2, pp. 1063-118 [in Russian]
Smagulov, E.A. (2002). A mausoleum at the bottom of the sea [Mavzolej na dne morja]. Kumbez, 4, pp. 50-52 [in Russian]
Smagulov, E.A. (2003). Under the waters of the Aral Sea [Pod vodami Aral'skogo morja]. Industry of Kazakhstan, 4, pp. 94-98 [in Russian]
Svitoch, A.A. (2009). A systemic study of arid territories. The history of the last Aral Sea [Sistemnoye izucheniye aridnykh territoriy. Istoriya poslednego Aral'skogo morya]. Arid Ecosystems, vol. 15, 2(38) [in Russian]
Tazhekeev, A.A. (2012). The history of flooding of the southern channels of the Lower Syr Darya according to archaeological data. The Inkar Darya [Istorija obvodnenija juzhnyh protokov Nizhnej Syrdar'i po arheologicheskim dannym. Inkardar'ja]. Materials of the III International Conference «Kadyrbaev Readings 2012». Aktobe [in Russian]
Tazhekeev, A.A. (2013). The history of flooding of the southern channels of the Lower Syr Darya according to archaeological data. The Zhana Darya [Istorija obvodnenij ajuzhnyh protokov Nizhnej Syrdar'i po arheologicheskim dannym. Zhanadar'ja]. Works of A.H. Margulan Institute of Archeology in Astana, vol. 2 [in Russian]
Tolstov, S.P. (1962). Along the ancient deltas of the Oxus and Jaxarth [Po drevnim del'tam Oksa i Jaksarta]. Moscow, 325 p. [in Russian]
Vajnberg, I. G., Ulst, V.G., Roze, V.K. (1972). On the ancient coastlines and fluctuations in the level of the Aral Sea [O drevnih beregovyh linijah i kolebanijah urovnja Aral'skogo morja]. Issues of Quartenary Geology, 8, pp. 69-89 [in Russian]
Voyakin, D.A. (2017). Aralasar settlement and Kerderi-2 mausoleum. Geography of sacred places of Kazakhstan: Catalogue of objects of nature, archeology, ethnography and religious architecture [Aralasar qonısı men Kerderi-2 kesenesi. Qazaqstannıñ kieli orındarının geografïyası: Tabïğat, arxeologiya, étnografïya jane dini sawlet oneri nısandarının tizilimi]. 1st Edition, Almaty: Academy of Sciences of the Republic of Kazakhstan, A.H. Margulan Institute of Archeology, pp. 490-494 [in Kazakh]
Vronskij, V.A. (1975). The Holocene history of the Aral Sea according to palynological data [Golocenovaja istorija Aral'skogo morja po palinologicheskim dannym]. The history of arid zone lakes and inland seas: Scientific conference abstracts. Leningrad; vol. 4, pp. 64-68 [in Russian]
adaptation, Aral Sea, Aral-Asar, archaeological sites, ecology, Kerderi-1 and Kerderi-2, Middle Ages