Call for papers
Special Issue
30 years of farm restructuring and water management reforms in Central Asia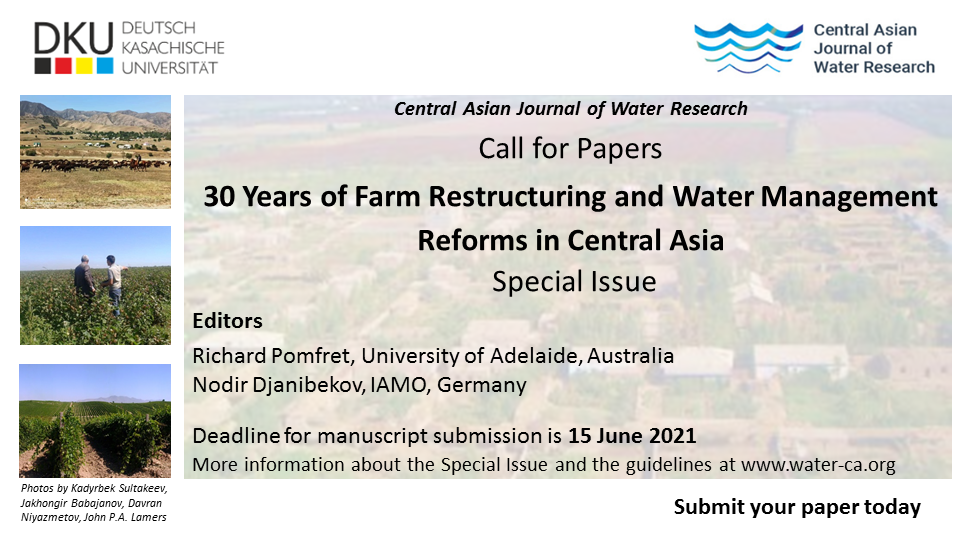 Editors
Prof. Dr. Richard Pomfret, University of Adelaide, Australia. Email: richard.pomfret@adelaide.edu.au Website: https://www.adelaide.edu.au/directory/richard.pomfret
Dr. Nodir Djanibekov, Leibniz Institute of Agricultural Development in Transition Economies (IAMO), Germany. Email: djanibekov@iamo.de Website: http://www.iamo.de/en/institute/staff/details/djanibekov/
Emerging from the Soviet centrally planned economy, each of five Central Asian countries opted for its own unique path of reorganizing its agricultural sector towards a desirable production and farm structure. The speed and manner of farm individualization and decentralization in water management mirrored the general approach to agricultural and political reforms. The three decades of transformations and spatial variations in policies produced a variety of contrasting outcomes across the region. For economists as well as researchers in related disciplines, the diversity of reform approaches and their outcomes make the region a treasury of 'natural experiments' worth studying and contributing new theoretical and fieldwork insights to knowledge.
Except Turkmenistan the Central Asian governments opted for farm fragmentation away from large-scale collective and state farms. While agroholdings operate in the Wheat Belt of Kazakhstan and new textile clusters have been hoisted in cotton sector of Uzbekistan, agriculture was turned to individual farms, and smallholders have retained their contribution to gross agricultural output through labor-intensive food commodities. In the southern regions of Central Asia, the agricultural reforms were accompanied by the decentralization of irrigation water and facilitation of the principles of Integrated Water Resources Management (IWRM). To support the replacement of central planning by more egalitarian models based on IWRM principles, governments established Water Users Associations (WUAs) as self-governing bodies of water users. Similar to the farm restructuring the outcomes of water sector reforms were controversial and mixed.
The Special Issue invites contributions from economists, sociologists and political scientists providing new understandings into the progress of agricultural reforms, farm restructuring, and institutional changes in Central Asian agriculture and water management, more specifically on topics related to:
Agricultural diversification, productivity growth and food security

Transformation in organizations and institutions of water management

Sustainable agricultural practices and climate change resilience

State-directed and voluntary organization of agricultural production

Smallholders integration into value chains
Manuscripts shall be submitted in English language until 15 June 2021. Research articles, review articles and short communications are invited. Submitted manuscripts should not be published or under consideration elsewhere except as conference proceeding papers.
Submitted papers should be well formatted and use good English. Please visit the Manuscript formatting guidelines page to prepare your submission according to the guidelines (https://water-ca.org/manuscript-formatting-requirements). Manuscript submission is online through the Scholastica platform (http://app.scholasticahq.com/journals/cajwr/manuscripts/new).
All papers will be refereed through a double-blind peer-review process. Reviewers' comments will be sent to corresponding authors by 31 July 2021. Accepted papers will be published continuously in the journal upon their acceptance and compiled into the special issue to be published before the end of the year.
agricultural reforms, farm restructuring, smallholders, tenure security, value chain development, water user associations