Results of the project "Gender aspects of water resource management in Central Asia and Afghanistan: Supporting young researchers through publication of articles in the CAJWR".
The project lasted from October 1, 2019 to May 30, 2020. The financial support was provided by the Central Asia Water and Energy Program (CAWEP), the World Bank.
September 15, 2021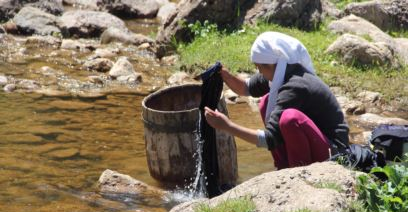 The Central Asia Knowledge Network has partnered with the Kazakh-German-University to implement a project supporting young academics at universities and research institutes in Central Asia and Afghanistan who are conducting research in the fields of water and energy conservation and/or climate change, particularly those with a strong focus on the gender aspects of water resource management.
The project team has convened a series of online conferences on gender in water resource management – for example, "Women and Access to Water," "Women and Water Education," "Women, Water and Health," "Women, Water and Climate Change," and "Women and Disaster Risk Reduction," – all of which are available here: cakn.online/en/gender-water
The conferences resulted in a compilation of annotated articles: "Practical Outlook on Gender Issues in the Water Resources Sector," produced by the participants.
Notably, the project has assisted in the production of scientific papers and publication of the article "Press Coverage of Gendered Labour Division in the Water Sector of Uzbekistan", by Bozorova M., in the Central Asian Journal of Water Research (CAJWR).
Full information on the project is available at the World Bank page "Promoting Women's Participation in Water Resource Management in Central Asia"